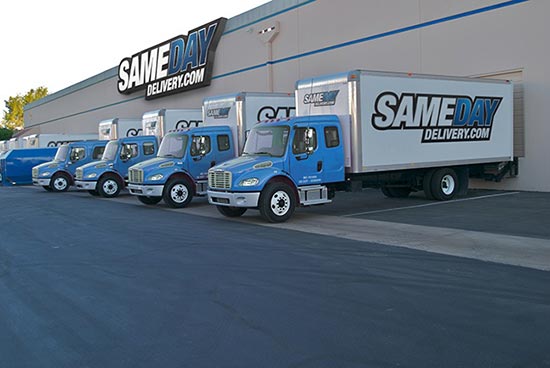 With a partner network across the United States, Canada and Mexico, SameDayDelivery.com will get your shipment to its destination whether it needs to go across town or to the next state. Our next day freight services are perfect for modified shipments when your customers want to add another product to their original order, and for emergency freight when operations require machinery or equipment replacements.
When selecting ground services from our next day freight company, you gain access to our 10,000 nationwide vehicle fleet with dedicated drivers who are experienced at handling a wide variety of commercial shipments.
Cargo and sprinter vans can handle loads up to 2,000 lbs for smaller shipments and expedited LTL loads. These vehicles are perfect for last mile deliveries, hot shot trucking freight, and quick deliveries during off-peak hours.
Our small straight trucks for medium loads of up to 6,500 lbs and large trucks for deliveries up to 12,000 lbs can handle palletized freight, machinery and equipment.
Timely alerts and satellite tracking services are available as our dedicated agents provide updates and follow-up work so you always know when your shipment will arrive.
We can work with charted air cargo services and scheduled air freight to offer express delivery for shipments that need to travel across the country as our ground transportation will be there when the plane lands.