Same Day Delivery & Overnight Freight Boise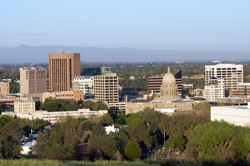 When it comes to getting your cargo to its destination quickly, there is no substitute for same day delivery or overnight freight services. With services in Boise, ID and across all of Idaho, SameDayDelivery.com provides fast and reliable delivery as well as expert customer support and tracking services. We utilize straight trucks, sprinter vans, box trucks as well as years of experience and a wide range of carriers in Boise to maintain the utmost speed and efficiency. Our team of professionals will work with you to determine the solutions that best match your needs and most benefit your bottom line.
As home to 210,145 people, many attractions and countless businesses, there is much going on in Boise. This can make logistics a bit of a hassle, especially for time critical deliveries and businesses that operate on a Just-in-Time production model. For that reason, SameDayDelivery.com offers Just-in-Time Delivery services to ensure your cargo arrives at its destination right as it is needed; reducing inventory costs and maximizing efficiency. Couple that with superior business intelligence achieved with the help of our modern tracking systems, and you'll always be able to stay on top of your deliveries and take your operations plus customer satisfaction to another level.
As a full service trucking company, SameDayDelivery.com offers several services to companies shipping in and out of Boise and the rest of Idaho. These solutions are tailored toward your business' needs and the shipment's individual requirements.
Idaho Same Day Delivery Services:
Expedited Freight
Just-in-Time Delivery
Same Day Freight
Time Critical Delivery
These services, as well as many other shipping solutions, allow us to be your trusted partner in logistics. Whether catching a Broncos game, eating out or spending time with the family, by utilizing a Third Party Logistics (3PL) provider in Boise, you can have peace of mind knowing your cargo is in good hands.
Looking to ship something long distance? Whether you're shipping into, out of or through Boise, we can help. We can provide a box truck for pallets and smaller-sized deliveries as well as tractor trailers for larger scale shipments. Even if you're looking to ship something out of Idaho, we can provide cross-country truckloads and air freight to get the job done. All of this and more is why SameDayDelivery.com continues to provide proven results to customers across North America.
Find out how you can benefit from our services and same day delivery in Boise, ID by contacting us today. Use the number below or complete our quick quote form to get rolling.
SameDayDelivery.com | Boise, ID
(208) 577-6233