Same Day Delivery Services for Oregon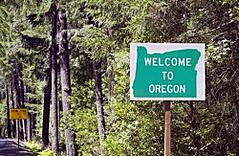 If you're in need of same day delivery in The Beaver State, look no further than the company that shares its name; SameDayDelivery.com. Our wide range of trucking solutions ensure your bottom line stays healthy, your shipment arrives on-time and your logistics operations maintain maximum efficiency. We accomplish this by working with a number of Oregon carriers, truck sizes and routes, while working with you to determine your precise requirements. With years of experience and proven results on our side, we know what it takes to ensure reliable same day delivery.
Being home to 3,871,859 people, Oregon can be a vibrant place to live in, let alone try to operate efficient logistics operations. Furthermore, if you operate on a Just-in-Time production schedule, worrying about shipment arrivals and departures can consume your day. Let SameDayDelivery.com alleviate these headaches with our Just-in-Time Delivery solutions, which handle your time critical shipments with speed and ease. These services are supplemented by our 24/7/365 customer support and tracking systems so you'll always know the status of deliveries and be able to plan accordingly, saving you both time and money.
SameDayDelivery.com is not your typical freight forwarder. We are a full service logistics company, capable of handling the coordination of all your shipments; large or small, near or far. Not only do we handle the coordination and tracking, but we also provide a number of other shipment solutions in Oregon.
Oregon Same Day Delivery Services:
Just-in-Time Delivery
Time Critical Trucking
Expedited Shipping
Same Day Messenger
We don't stop there, however. With SameDayDelivery.com, our services are customized to your business' needs and your shipment's requirements and schedule. So whether you're enjoying a home-cooked meal, catching a local game or just relaxing at home, you can rest assured knowing SameDayDelivery.com is working for you.
SameDayDelivery.com stretches far beyond same day trucking in Oregon. Whether you're shipping a pallet through Portland in a cargo van or need a full truckload across the nation, we can help you make it work. Looking for something a little more long distance? No problem. We can also coordinate air freight and cross-country shipments. It's all part of the customized service you get when you utilize a versatile freight forwarder like SameDayDelivery.com.
So contact us today, and discover the advantages of truly efficient logistics in The Beaver State.
SameDayDelivery.com | Oregon
(503) 573-8000