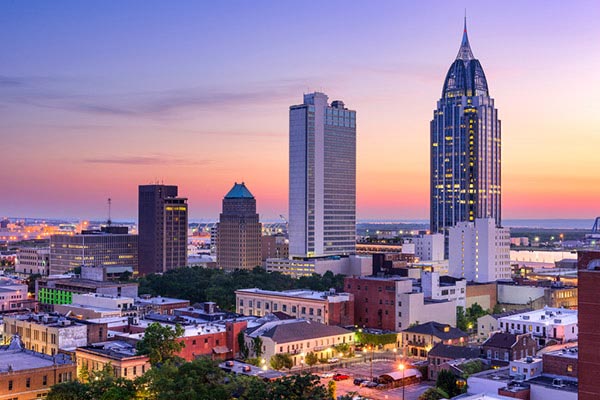 We know what a special city Mobile is, resting at the mouth of the Mobile River at Mobile Bay, which leads in turn to the Gulf of Mexico. Today there are over 600,000 residents living within the metropolitan area which covers more than 2,800 square miles. The city has a rich and vibrant mix of businesses which help to promote the economic well being of the city and modern business demands insist that urgent deliveries are performed reliably each and every time. We offer Just-in-Time Delivery services to ensure your cargo arrives at its destination right as it is needed; reducing inventory costs and maximizing efficiency. Couple that with superior business intelligence achieved with the help of our tracking systems, and you'll always be able to stay in charge of your deliveries and take your operations to another level.
Mobile is experiencing healthy growth and key employers today include aerospace, retail, steel, ship building, construction, medicine, and manufacturing companies. At the end of a busy day why not take more advantage of the wonderful arts and culture scene in Mobile or simply enjoy the history that the city has to offer and in the meantime know your same day delivery or next day shipping needs are covered by us. For all of your B2B Same Day Delivery services we're ready to help.
As your trusted shipping partner and a full-service full truckload broker, SameDayDelivery.com works with you to determine your shipment's requirements, matching you with a cost-efficient, reliable carrier. We also provide a number of additional services for Alabama companies to take advantage of.