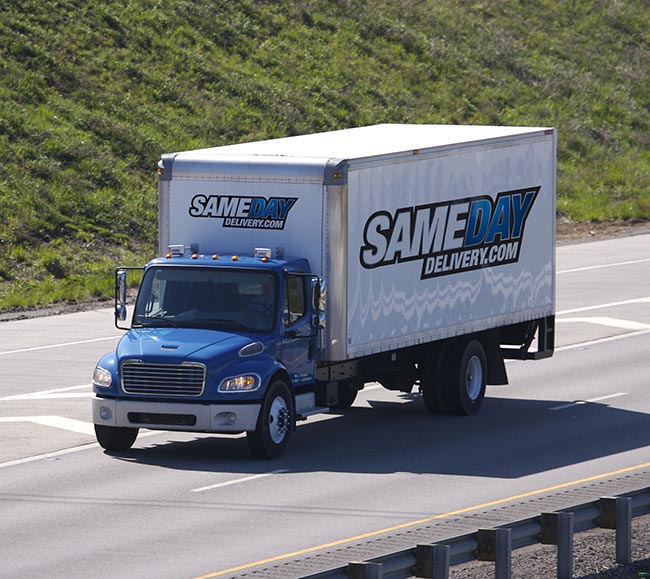 Along the same lines, we also provide two dedicated, passionate and talented truck drivers for each and every delivery we make, regardless of how far something has to go. If one driver gets tired, he or she can easily switch off with the other and vice versa. We find that this goes an exceptionally long way towards making sure that the only stops your truck will take are for gas and nothing else.
Because of all this, and because we place such a high priority on that care and attention-to-detail, your items will get exactly where they need to go, exactly when they need to be there. That level of commitment is something that you truly won't be able to find anywhere else - and we wouldn't have it any other way.
One of our major priorities at SameDayDelivery.com always involves offering you a genuine experience in every sense of the term.
From the instant that you pick up the phone and give us a call for the first time, you'll be paired up with a dedicated agent who essentially works for you and you alone. They'll get started right away, learning as much as possible about both your organization and your shipment so that they can come up with exactly the right plan of action before you've even had a chance to hang up the phone.

This also puts that dedicated agent in a position to quickly match you up with the right type of vehicle, all to put your mind at ease so that you don't have a thing to worry about. Even if your shipment requires some form of special transportation, we have that covered, too.
All told, we offer a wide array of different transportation options for you and your shipment, including but not limited to examples like:
Sprinter vans
Small Straight Trucks
Large Straight Trucks
Expedited Full Truckloads
Spcialized Flat Bed Trailers
During the course of your initial call, your dedicated agent will explain all of your options to you so that you can make the best and most informed decisions moving forward. If your delivery is local in nature, for example, a dedicated sprinter van is the perfect way to guarantee both economy and speed in one fell swoop. Straight trucks, on the other hand, would be ideal for an LTL (or "less-than-truckload") situation.
But at the same time, it truly doesn't matter what type of items you're shipping or where they need to go. Because we've worked hard to establish relationships over the years with some of the finest trucking professionals in the industry today, our dedicated trucking solutions can get your items to any point not only across the United States, but across Canada and Mexico as well.

All throughout the course of your experience with SameDayDelivery.com, your dedicated agent will play an important (and proactive) role in your experience. For starters, know that this person is going to be available to you 24 hours a day, seven days a week, 365 days a year. You'll never have to wonder whether you're going to be able to get someone on the phone to address a concern or answer a question because you'll KNOW, beyond the shadow of a doubt, that you can.
Likewise, we refuse to keep you guessing like so many other trucking providers out there seem all too willing to do. Yes, they may have made your delivery on-time - but from the moment their truck pulled out of your loading dock, you were left wondering whether they could really do what they said they could.
At SameDayDelivery.com, on the other hand, our dedicated trucking solutions are backed by state-of-the-art satellite tracking technology. WE always have real-time and instant insight into where your items are which means that YOU do, too.
If you want to know how far your items have traveled, you're never more than a few quick mouse clicks away from learning exactly that. You'll also know how far your shipment still has to go, allowing you to provide that same information to the people waiting on those deliveries, too.