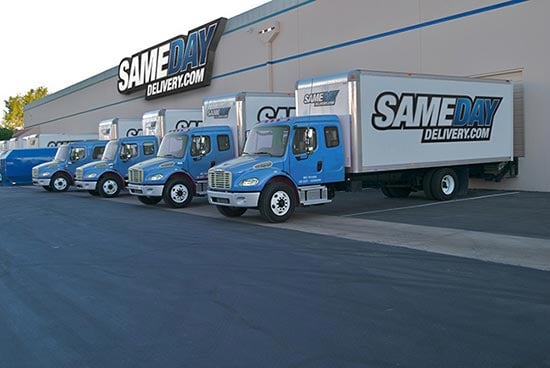 That's why, from the moment you pick up the phone and give us a call, we'll take the time to learn as much about your business AND your shipment as possible. This puts us in an excellent position to always match your shipment up with exactly the right transportation options, making success a foregone conclusion.
Regardless of what you're shipping, we'll always treat your cargo with the exact same care and attention-to-detail that you deserve. If giving your items their own private transportation vehicle is needed to get the job done, that is absolutely a step that we're willing to take.
Overall, our comprehensive same day delivery services offer a number of unique benefits that you simply won't be able to find anywhere else.
Not only local and regional deliveries, but national and cross-country shipments, too. If you need to get a truckload of important items across the city, we'll be there. If you need to get those same items across the United States or into Canada or Mexico, we'll be there, too.
Dedicated vehicles that handle ONLY your same day delivery, absolutely no exceptions. By giving you exclusive access to the vehicle in question, it doesn't just avoid delays while you wait for someone else's products to be delivered. It also goes a long way towards guaranteeing that your items will not be lost or damaged during shipping.
Tracking and ongoing customer support. At SameDayDelivery.com, we utilize state-of-the-art satellite tracking solutions so that you always know what is going on with your shipment. At any given moment, you're never more than a few seconds away from real-time information about where your shipment is and how long it will be until it reaches its final destination.
A single point-of-contact throughout. Rather than getting passed around from person to person, when you call SameDayDelivery.com you'll be assigned a dedicated agent during your initial call. From that moment on, this person works for you. If you have a concern, they have a solution. If you have a question, they have an answer. More than that, they're available 24 hours a day, seven days a week, 365 days a year - no matter what.
Truth be told, any one of these benefits would probably be enough to impress most people - but that's not exactly what we're trying to do. When taken together, they add up to something far more valuable than any one of them could be on their own - a true experience in every sense of the term. One that is not only built from the ground up to meet your needs, but one that also places the emphasis on our customers where it belongs.