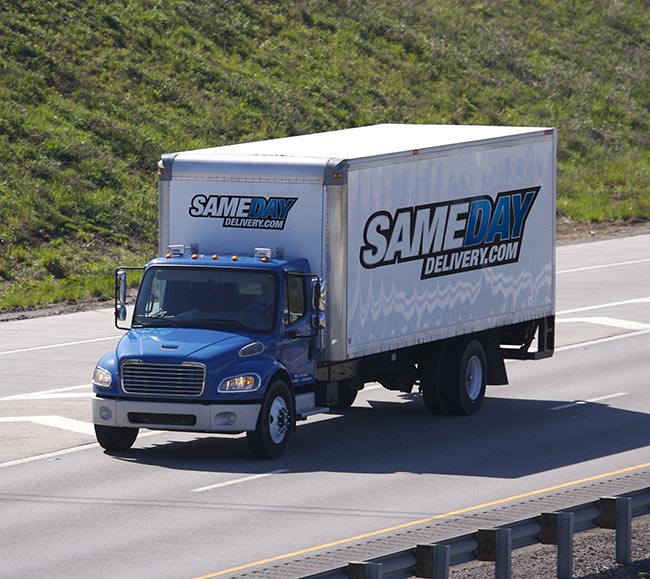 For these and other types of situations when time is of the essence, understand that there ARE options available to you to meet your needs and exceed the expectations of everyone involved.
Options that can get any shipment into the waiting arms of the people who need it the most with a level of care, passion and attention-to-detail that you can count on.
When those types of conditions arise, clients in the energy, construction, automotive and other sectors have regularly turned to the team at SameDayDelivery.com for over a decade. We've never encountered a deadline that we couldn't meet and, above all else, we're incredibly eager for the opportunity to show you what we can do.
From the moment you first pick up the phone and give us a call at SameDayDelivery.com, our most immediate goal is also the most straightforward: we want to do anything and everything in our power to put your mind at ease.
Over the years, we've encountered incredibly strict deadlines in some of the most harrowing conditions you can think of. We've literally seen it all at this point, and can assure you that even though the challenges you face may feel severe in the moment, they are NOT insurmountable. Not with our ingenuity and our expertise by your side.
As soon as you originally make contact with us, you'll be assigned a dedicated point of contact who will act as your champion and ally from that moment on. This person will be available to handle your every need 24 hours a day, seven days a week, 365 days a year - no exceptions.
During that initial consultation, your dedicated agent will take the time to learn as much about your shipment - and your business - as possible. Not only will that give us the opportunity to confirm that we're all on the same page, but this critical insight will also allow them to start planning the perfect shipment schedule (complete with all the fastest routes) before you've even had a chance to hang up the phone!
From that moment on, the process goes a little something like this:
We'll dispatch a team of trucking professionals to your location to pick up your essential items and begin their journey as soon as possible. Because we've worked hard over the years to develop relationships with all the best trucking providers in the nation, there is never a dedicated team more than just a few short hours away from your site - if they're even that far to begin with.
Notice that we said "team" in the above description - that's because we always assign not one but TWO drivers to every job. This is so one driver can always switch off with another, keeping your items on the road and your objectives moving forward at all times.
If any type of specialty vehicle is needed to successfully transport your items, it will be provided to you at this time.
Your drivers will carry your items over that proverbial finish line, all before the calendar has a chance to switch over to a new business day.
Your workers will be happy. Your customers will be happy. You'll be over-the-moon about what we were able to accomplish in such a short amount of time - and it's all possible thanks to the years of experience we have lending a helping hand to those like you.