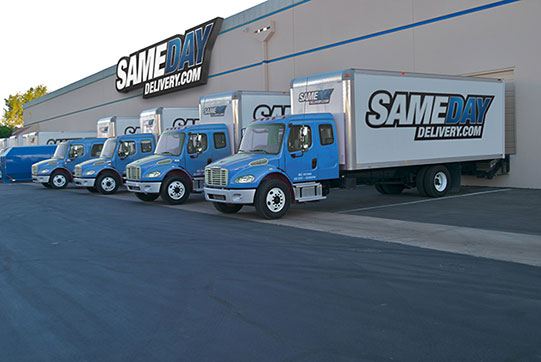 Same day couriers all pride themselves on swift service, but such a claim can mean wildly different things depending on who makes it. For some, "same day service" indicates only that their orders arrive within a few hours on average; your delivery times can vary wildly for each job, with some orders getting there well ahead of schedule and others not arriving until long after they're due. Even a same day courier that consistently keeps its swift service commitments may make questionable sacrifices to do so. A courier that moves at unsafe speeds and does little to prevent trucker fatigue puts your goods at serious risks just to meet a deadline.
A truly effective same day courier service must balance the need for speed with equally important outcomes like safety and predictability. Failure to achieve each of these goals can seriously set your company back. If your goods aren't kept safe, they may be less valuable or even completely useless when they arrive. Likewise, orders that are not predictable, even if they are fast on average, will cost your company considerably in adjusting to new information. You cannot afford to accept less than the best in any of these areas.
SameDayCourier.com achieves all aspects of quality shipping. We store your goods securely, making sure that they do not become damaged no matter how turbulent the ride gets. We also take pains to avoid delays and provide accurate updates so that you have no trouble making plans. Finally, we maximize speed, not only by finding the most efficient ground transport options but also by chartering or scheduling air cargo flights for especially distant deliveries. Through these and other same day delivery services, we resolve even your most challenging shipping needs with ease.