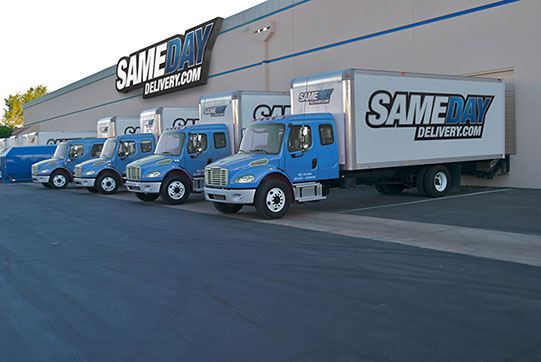 Successful shipments are all alike, while every shipping disaster is disastrous in its own way. Perhaps your standard carrier got into a wreck and destroyed your goods in the process. Alternatively, they may have planned out their route poorly and ended up stuck on a congested road, adding hours or even days to the initial deadline. Or perhaps the problem wasn't with your carrier at all, but rather with a customer who demands that you ship within a matter of hours and has the money to make you want to comply. Whatever the reason, sooner or later your business is likely to need same day trucking services.
While many shipping companies claim that they can give you a same day delivery, not all take the steps to do this reliably. Carriers that have vehicles and drivers in only a limited number of locations may be able to provide same day trucking from those locations, but they won't do you any good if your starting point is hundreds of miles away. Likewise, a carrier who fails to take proper safety precautions may get into an accident on the way to your destination; even if your goods remain intact, this can quickly turn a same day delivery into a shipment that takes the better part of a week. Unless a trucking company prepares for all these eventualities, they may well make a logistical emergency even worse.
SameDayTrucking.com prepares for any source of delay and damage along all of our clients' routes. We hire only the safest, most competent, and most courteous drivers, and give them the route planning and ongoing support they need to avoid obstacles. We also maintain vehicles and coverage in a wide range of starting points, so that we can load your goods within two hours and head straight for the destination. By taking these precautions, we keep ourselves equipped to handle even the most complex and challenging shipping emergencies. You can count on us to clear up your supply lines and keep your company running smoothly.