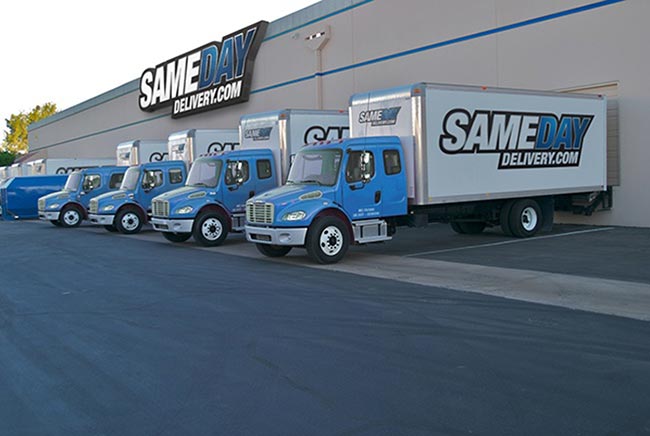 Spokane's location in eastern Washington, far from megacities like Seattle, Portland, and Vancouver, is both a challenge and an opportunity. The opportunity comes from the vast natural and human resources in this area, which Spokane has the chance to develop and profit from without competition from other large cities.
The challenge is developing these resources without easy access to the well-established shipping routes that serve those megacities. Spokane businesses must rely on smaller and fewer roads than their Seattle and Portland counterparts count on, meaning that if one of those roads closes down, shipping becomes a nightmare. Such companies thus live in fear of traffic jams, storms, road closures, and anything else that might block their ordinary delivery routes.
SameDayDelivery.com stops these fears in their tracks. As an expedited freight expert with a commitment to eastern Washington communities like Spokane, Yakima, and Kennewick, we're adept at delivering efficiently and reliably over even the sparsest road networks.
Our team is well attuned to Spokane's needs, and fulfills them through:
Dedicating Shipments— One ordinary shipping practice that is highly perilous during emergency situations in eastern Washington is that of lumping multiple clients' items together. When one of our trucks has to reach several destinations in a single run, it must plan circuitous routes that hit all of them, often relying on backroads or remote paths. If a storm or jam disrupts any part of these routes, it's often hard to get back on track, at least without skipping a customer and making them wait for their order. SameDayDelivery.com avoids this problem by adopting a dedicated shipping strategy. We reserve our trucks for one client at a time, and can thus choose the most direct route to their destination. Thus, the risk of delay is minimized and we maintain the flexibility to keep your order on track even if problems arise during the delivery.
Thinking Ahead— While we try to choose the most direct route, we don't make directness the only consideration when planning your delivery. We also take into account potential threats to each route, such as those posed by frequent traffic jams or by inclement weather. Our goal is to select a highly direct and efficient route that faces a minimal risk of delay from any source. By planning ahead in this way, we cut down on the unexpected and make sure that each step of the journey is carefully considered. Delays are thus unlikely to arise, and when they do, we'll know exactly how to respond.
Pursuing Backup Plans— To respond to delays, the SameDayDelivery.com team keeps myriad alternate route plans on hand that we can consult at any moment. We also track our trucks using the latest equipment, checking in regularly to confirm their location and estimated arrival time. We pay attention to traffic, weather, and infrastructure reports, so that the moment a jam, storm, or road closure occurs ahead of our trucks, we'll know. We then consult our plans, identify the closest alternative route, and inform our drivers that they need to switch onto it. In this way, we dramatically reduce both the odds of a delay and the length of delays that do occur.
Assigning Teams— To carry out these concerted plans, we send our drivers out in teams of two instead of requiring them to deliver your items individually. Team driving offers a whole host of advantages, the most important of which is safety. When our drivers are working together in teams, they can switch off the moment that the one at the wheel gets tired. Thus, neither trucker is ever too fatigued to steer the truck safely. This arrangement has the added benefit of speeding up our orders and making them more flexible. Because a driver is always available to drive while the other rests, we don't need to stop our trucks overnight, and can thus eliminate one of the most serious sources of delay for emergency shipments. And the lack of need to stop overnight means that even if you place your order late in the day, we'll be able to fill it just as efficiently as if you placed it in the morning.
Leveraging a Network— SameDayDelivery.com keeps delivery vehicles of all sizes in major cities across the US, Mexico, and Canada. When you place an order, we'll figure out which truck is closest to your starting point and send it immediately. This allows us to load up your items in less than two hours before getting on route to Spokane.