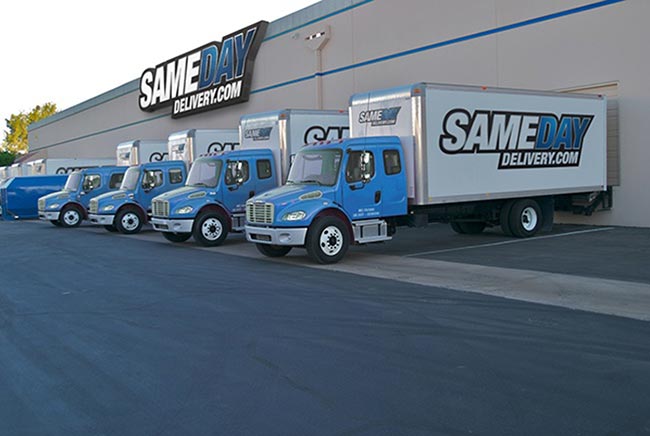 The key to success for SameDayDelivery.com is experience. We have spent years supplying Morgantown, along with other communities in the area like Martinsburg, Wheeling, and Parkersburgh. In that time, we've seen firsthand just how perilous it can be to deliver on mountain roads in tight schedules.
From inclement weather to deteriorating pavement to traffic jams that arise without warning, every variety of obstacle can disrupt shipments and destabilize businesses in this area. By getting to know the area well, we've come to understand when and where to expect these problems and can hit the ground running whenever one arises.
Armed with this knowledge and experience, SameDayDelivery.com has developed a foolproof shipping strategy.
That strategy has many prongs, the most important of which are:
Dedicated Shipping— Focused shipments are fast shipments. To that end, SameDayDelivery.com departs from the standard practice of loading multiple clients' items into one truck or van. Instead, we assign one vehicle per order, meaning you'll have a truck or van reserved solely for your needs. Because that truck is only serving you, it can take the most direct route between your starting point and your destination, and doesn't need to follow some circuitous detour that lets it visit other clients' endpoints along the way. You'll thus get your items more quickly, all while feeling reassured that your needs are foremost on our drivers' minds.
Driver Diligence— Not only will our drivers be dedicated to your needs and no one else's, but you can count on them to be the best in the business. SameDayDelivery.com takes recruitment seriously, and has developed an extensive vetting process for anyone interested in joining our company. By weeding out only the safest, most dependable drivers, we make sure that your items are always in good hands. We also select for courtesy and efficiency, so that our drivers can get the job done at maximum speed while treating you with the respect and attention you deserve.
Team Support— Rather than send just one of our skillful, safe drivers, we pair them up on all but the shortest deliveries. This team trucking strategy has the advantage of letting us keep our trucks on the road day and night, all without tiring the drivers out. When the driver at the wheel gets sleepy, they can switch off with their partner and get some rest; the other then switches off whenever they get too tired to keep driving. Thus, no matter what time of day you place your order, we'll be able to ship it without stopping.
Planned Deliveries— While our drivers are skilled at working in teams and finding fast routes, we don't expect them to do it all on their own. Instead, we offer the support of a dedicated logistics team with the expertise for planning lightning-fast routes. Our team has extensive knowledge of supply routes into and out of Morgantown. They know what times of day traffic will be heaviest or lightest, as well as when to expect storms, which roads are in good condition, and a host of other variables that help us predict delays. We'll select the fastest route with the smallest risk of disruption and send our trucks out on that. Our team then keeps an eye on our trucks while they're on the road, using sophisticated tracking tech to monitor the vehicles, watch the route ahead, and steer our drivers around unexpected obstacles. You'll thus get your items at high speed and will almost never need to worry about delay or disruption.
Trucking Networks— The final key to our fast deliveries is the sheer size and scope of our trucking network. SameDayDelivery.com keeps a vast fleet of vehicles in key locations all over the United States, as well as throughout Canada and Mexico. When we receive an order, we'll select the truck closest to your starting point, contact a nearby driver in our network, and send them to pick up your items. Those items should be loaded up in as little as two hours, allowing us to quickly get on the road to Morgantown. By keeping our drivers and trucks spread out, we eliminate the need to drive out from Morgantown to your starting point, and thus cut our delivery times nearly in half with one fell swoop. Our network has the added benefit of being able to accommodate even the most unusual supply routes; no matter how remote your supplier is, we shouldn't have any trouble reaching them.