Same Day Delivery – Overnight Freight Experts in Honolulu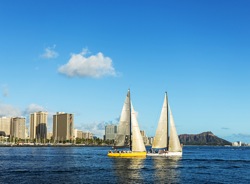 SameDayDelivery.com is proud to offer comprehensive shipping services in Honolulu, HI, as well as in other Hawaii cities and towns. We specialize in overnight freight and offer fast and reliable same or next day delivery while utilizing a wide range of carriers in the area. Our team of professionals will work with you to determine your shipping needs as well as the details of your cargo, allowing us to match you with the carrier and the truck or van that will most benefit your bottom line. With extensive services and years of experience in same day delivery, we know what it takes to help your business thrive in Hawaii.
As home to 374,658 people, many attractions and countless businesses, there is much going on in Honolulu. This can make logistics a bit of a challenge, especially for time critical deliveries and businesses that operate on a Just-in-Time production model. For that reason, SameDayDelivery.com offers Just-in-Time Delivery services to ensure your cargo arrives at its destination right as it is needed; reducing inventory costs and maximizing efficiency. Couple that with superior business intelligence achieved with the help of our tracking systems, and you'll always be able to stay on top of your deliveries and take your operations to another level.
SameDayDelivery.com is not your average truckload company. We are a full service logistics company, capable of handling the coordination of all your shipments; large or small, near or far. Not only do we handle the coordination and tracking, but we also provide a number of other cargo solutions in Hawaii.
Hawaii Same Day Delivery Services:
Satellite Tracking
Time Critical Shipping
Expedited Delivery
Same Day Freight
We don't stop there, however. With SameDayDelivery.com, our services are customized to your business' needs and your shipment's requirements and schedule. So whether you're enjoying some Honolulu cuisine, catching a Warriors game or just relaxing at home, you can rest assured knowing SameDayDelivery.com is working for you.
SameDayDelivery.com's wide-ranging services are not limited to just Honolulu, of course. Whether you're in need of a box truck to shoot across town or through Hawaii, or even if you need a full tractor trailer to travel cross-country, we can help make it happen. Our network of partner carriers stretches through Hawaii and all of North America. We also have air freight services for the truly time critical cargo. With such versatile, comprehensive capabilities, SameDayDelivery.com is well-equipped to be your full-service truckload company.
So contact us today, and discover the advantages of truly efficient logistics in Honolulu, HI. We'll be standing by at the number below or you can complete our quote form to get started.
SameDayDelivery.com | Honolulu, HI
(808) 845-4577