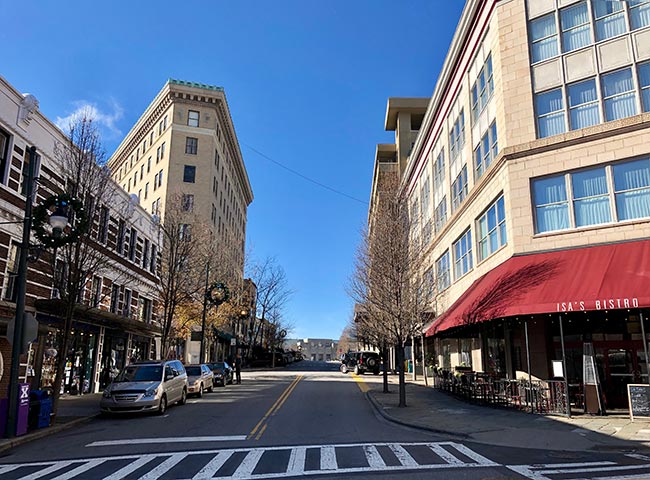 This feeling of health and happiness helps explain why so many businesses choose to move their operations to Asheville. From construction equipment companies like Volvo Construction to scientific instrumentation producers like Thermo Fisher to industrial parts suppliers like BorgWarner, every type of company wants a piece of this Blue Ridge paradise. But with so many businesses vying to ship over the region's narrow mountain roads, delivery delays are a common occurrence, threatening the continued prosperity of the Asheville economy.
SameDayDelivery.com stops this threat in its tracks. A same day delivery service Asheville turns to when it's missing key parts, we provide quick, secure deliveries from anywhere in North America. We're proud to offer Asheville businesses everything they need to succeed so that this scenic town remains a true paradise for the long haul.
Armed with this local knowledge, we're able to leverage our massive, widespread delivery fleet in a way that best serves our Asheville area clients. Our trucks are dispersed across the continent, from the Yucatan Peninsula to Ontario to Hawaii to Florida to British Columbia. By keeping vehicles in so many strategic spots, we position ourselves to deliver at rapid speed from any starting point. Wherever you need us to ship from, you can rest assured that we'll be able to reach your goods and load them up in no more than two hours. This frees our schedule up to drive straight to Asheville so that you can get your items well within 24 hours of placing the order.
To further speed up and streamline our services, SameDayDelivery.com has adopted a policy of sending drivers out two by two on all orders that require more than a few hours behind the wheel. Known as team trucking, this policy allows us to skip the step many shippers take of stopping our trucks overnight so the drivers can rest.
Instead, the two drivers just switch off between resting and driving whenever the one behind the wheel becomes too tired to keep working. Thus, our trucks stay on the road through the night, allowing them to complete any deliveries more rapidly. Team trucking has the added benefit of letting us accommodate clients who place orders late in the day. No matter what time you request a delivery, you can be sure we'll take right to the road and not stop until you have your supplies.
In addition to teaming up our drivers, we also create teams of support staff who plan those drivers' routes out beforehand. We recruit support personnel who have extensive training and experience to work with logistical data. These professionals compare road quality reports, traffic patterns, weather forecasts, maintenance schedules, and countless other pieces of information when assessing whether a particular route is fast and reliable. This way, they'll be able to pick a path for your order that can be traversed well within your schedule and where the possibility of delay is vanishingly small. By relying on trained support personnel, we achieve same day delivery Asheville services that are as consistent as they are quick, guaranteeing that you get your supplies on time.