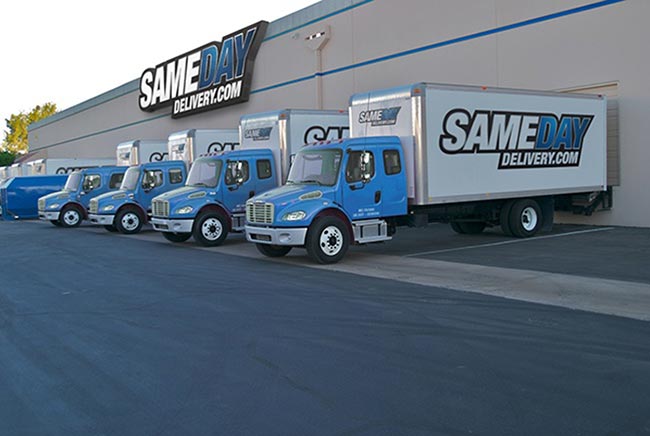 For all of Riverside's advantages, hosting so many industries at one site does make logistics a headache at best. Aircraft component producers and other parts manufacturers often work on the strictest of schedules, making it difficult for them to respond to even a minor delay. And given the heavy competition for use of local roads, delays are commonplace.
SameDayDelivery.com is an expert at avoiding and minimizing delays. We know the Inland Empire well, and can predict exactly when traffic and other issues will arise on any of its roads. We can thus plot any same day delivery Riverside businesses need, bringing in the supplies to restore you to business as usual.
SameDayDelivery.com is committed to serving all of the Inland Empire seamlessly and successfully. From Riverside to San Bernardino to Perris to Palm Springs to Ontario, we've gotten to know each of the communities in the area. We understand what supplies local businesses need and can anticipate any barriers to bringing those supplies in. By planning ahead and taking advantage of a vast array of resources, we'll get you your goods when you need them, no matter what.
Our same day shipping strategy always starts with a plan. When you place an order, we get right to work selecting the best possible route to take from the current location of your supplies all the way to Riverside. We prioritize the most direct route that allows for the quickest journey under ordinary circumstances. But we also recognizes that circumstances aren't always ordinary, which is why we take into account the many things that can go wrong for a shipment. We look at weather forecasts to see if any storms are coming; traffic patterns that might suggest imminent congestion; and road quality reports to ensure that a route is safe and that it won't get closed down. By weighing these factors together, we choose the quickest, most reliable route possible.

Armed with a comprehensive shipping plan, SameDayDelivery.com next selects the best vehicle for the job. We're a dedicated trucking company, which means that we assign a truck or van to you and don't allow that vehicle to carry anyone else's goods until it has delivered yours. To ensure you aren't paying for unused space, we make sure the vehicle's payload capacity matches the volume of your goods. We also inform the drivers of what you're carrying so that they can handle it safely and responsibly.
In selecting a truck to carry your goods and drivers to operate that truck, we prioritize proximity to your starting point. Our fleet of vehicles extends through every major urban area on the continent, including in Mexico and Canada as well as the United States. Consequently, no matter the location you're shipping from, we're virtually guaranteed to have a truck that can load your goods in two hours or less. Such a short loading time means we'll be able to get on the highway more quickly, reinforcing our ability to deliver within 24 hours.
Further bolstering our same day success is our reliance on teams of drivers. Instead of assigning one driver per truck, we send our skilled staff members in teams of two, with strict instructions to share the work 50/50. One driver can operate the truck while the other rests; then, when the one who's driving gets tired, they switch. This arrangement means that we're able to keep the truck on the road both day and night, yet neither of our drivers is ever expected to take the wheel when they aren't fully awake and alert. In this way, we guarantee speed and safety simultaneously.